Family Contact Program offers objective feedback you can trust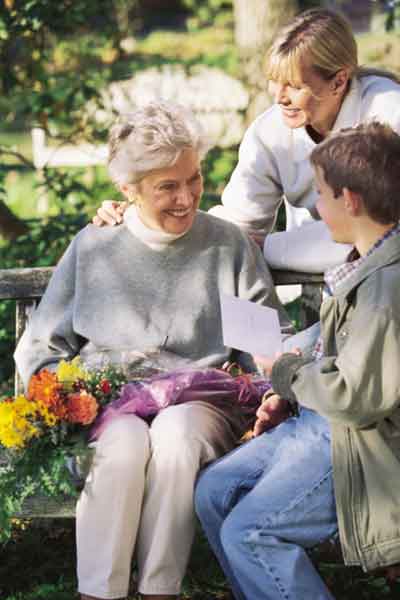 How do you know if the families you serve are truly satisfied? Will they tell other families about their experience with your staff and arrangements conference? What did they think about your pricing, facilities, the level of comfort and the overall service they received? Are they interested in pre-arranging? OGR's Family Contact can find these answers and more.
The Family Contact program is an exclusive member benefit. Because family/client satisfaction is a key indicator of your success, Family Contact was created to provide you with objective feedback from families recently served.
Families will appreciate your desire to maintain quality service standards, and you will appreciate the chance to reinforce your funeral home as a Golden Rule firm.
Contact OGR's Family Contact coordinator, (800) 637-8030, for questions or to sign up.
Your Family Contact Kit Family Contact Perks The SoftTouch Option
---
Your Family Contact Kit
When you enroll in Family Contact, you will receive a starter kit containing a supply of:
Evaluation of Service surveys
Self-addressed reply envelopes
An introductory letter, pre-printed on Golden Rule letterhead, explaining the Evaluation of Service survey to your families. (You may want to take a more personalized approach by composing your own letter on your funeral home letterhead.) See sample letters from members
Mailing envelopes imprinted with the Golden Rule logo
To distribute the survey, simply:
Mail the survey to your families, with an introductory letter and self-addressed reply envelope.
Include the survey in an information packet you give to families.
Or give the survey to families during a personal visit at a later date.
What happens to the surveys after they are received?
Once OGR receives the completed surveys, the information will be recorded. You will then begin receiving monthly reports of the evaluations, as well as the surveys so you can review the comments.
To reorder Family Contact supplies, simply download this form and submit to OGR.
---
Family Contact Perks
Use Family Contact to build teamwork with staff. Share the monthly reports with your staff. The comments and suggestions can help you to evaluate your service and the professionalism, aacknowledge successes and evaluate areas where you can make real improvements.
Use Family Contact to renew staff confidence. You and your staff will work with renewed confidence that the services and customer care you are providing truly makes a difference to families.
Use Family Contact to boost your pre-need. You'll learn if families are interested in pre-need through the survey instrument. (Also see details on the SoftTouch option below).
---
The SoftTouch Option
There is no cost for this service for members writing their pre-need through PFP and Homesteaders Life Company, both OGR Preneed Alliance partners. This program gives members yet another way to differentiate themselves and boost their pre-need volume.
Contact the membership department, (800) 637-8030, for questions or to sign up.