EVENTS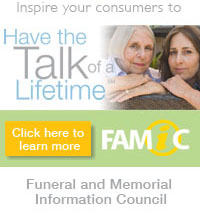 Photos
2013 Annual Conference, Memphis, TX

Past Webinars
Click here to view PodCasts of past Webinars:
Growing Your Firm in Today's Economy – David Nixon, Nixon Consulting, Inc.
Employee Concerns: Funeral Home Liability and OSHA Compliance – Gary Finch, Compliance Plus
Alternatives to Embalming –Joe Sehee, Green Burial Counci
12/12/13

Innovative Technology in Funeral Homes: Challenges and Victories
– William and Tim Brock, Vander Plaat Funeral Home of Wyckoff
New Members
Funeral Home Members
Thielen Funeral Home | Burlington, IA | Adam Thielen
Goodwin Family Funeral Home | Vincennes, IN | Tim Goodwin

Business Members

Batesville Technology | Bateville, IN | Sales
Mobits | Detroit, MI | Steven Holland
Nicodemus & Associates | Virginia Beach, VA | Mike Nicodemus
Shine On Brightly | Ashville, NC | Adrienne Crowther

ABM Funding, Inc. | Martinsville, VA | Scott Baker

Hought Wahl- Woodturner | Marietta, GA | Hought Wahl
J & D Recovery | Bohemia, NY | Jim Dorsa
Matthews International | Pittsburgh, PA | Thomas Pontone
PinDot Media | Roswell, GA | Ruth Gravely
Not a member yet?
Learn how becoming a Golden Rule® Funeral Home can distinguish you within your community.
Already a member?
Recommend another independent for membership in the OGR community.