Pheasant Hunt 2023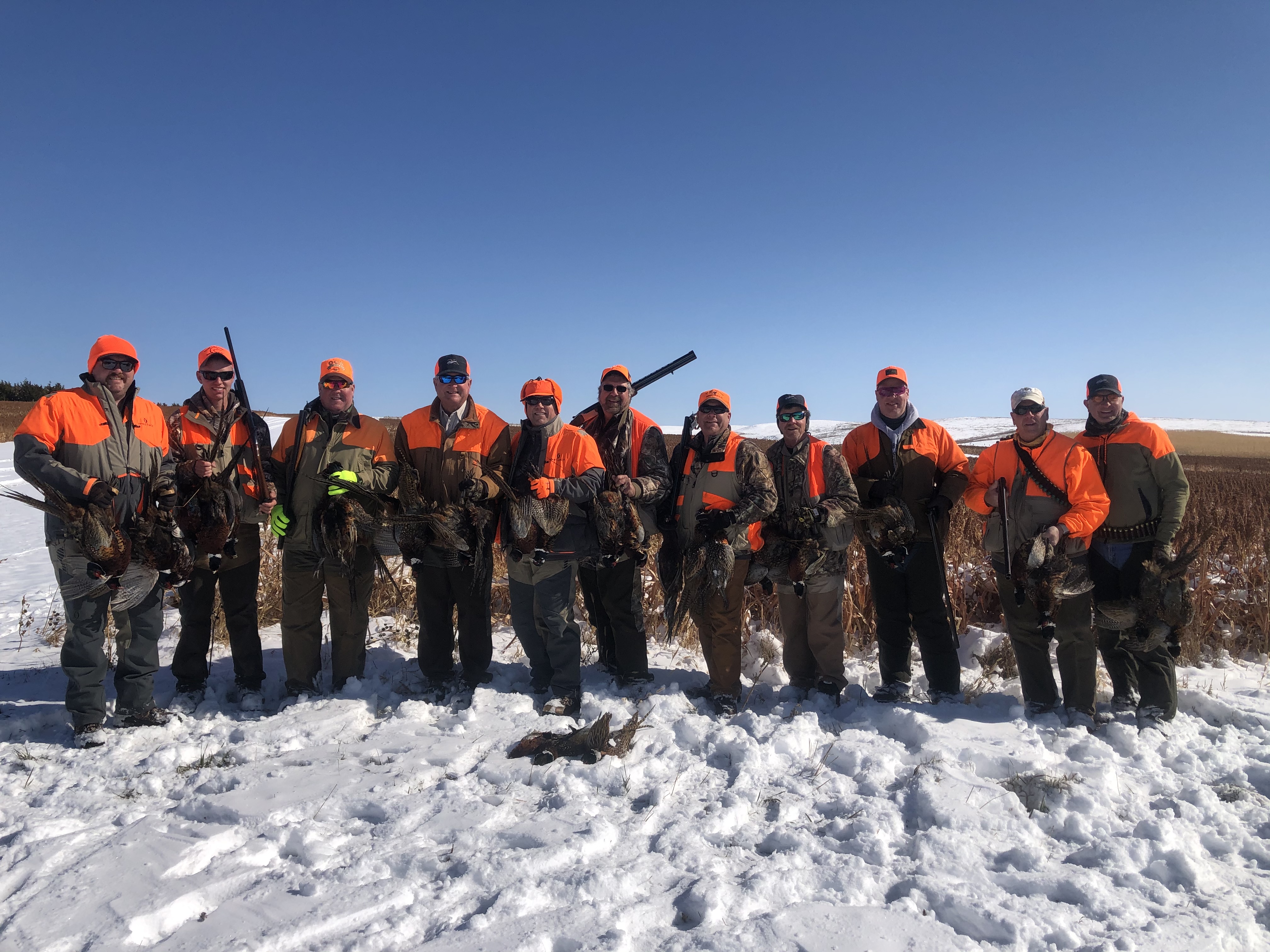 OGR members are invited to participate in this time-honored tradition. OGR's annual Pheasant Hunt, organized and hosted by Kevin Opsahl of member firm Opsahl-Kostel Funeral Home in Yankton, South Dakota, will take place Nov. 1 - 5 at Biggins Hunting Service near Gregory, S.D. Enjoy premium hunting by day and relaxing camaraderie with your fellow OGR members in the evenings.
Even better? This event is approved by APFSP for 3 contact hours!
Online registration for this event is now closed. For questions, please contact our education department at [email protected] or call 800-637-8030, ext. 119. 
If you have any questions, please contact Meetings & Events Coordinator Anna Delph at [email protected].
Schedule
Wednesday, Nov. 1: arrive at the lodge
Thursday - Saturday, Nov. 2 - 4: hunting days
Sunday, Nov. 5: fly home
Lodging
Biggins Hunting Service
Gregg & Be Biggins
33451 U.S. Hwy. 18
Gregory, SD 57533
605.835.8518
BigginsHuntingService.com
Biggins' main lodge is a comfortable facility offering wide-screen TVs, wireless internet, pool table, foosball and relaxing recliners. Each room has two double beds, a full bathroom, a separate dressing area and a mud room for removing and hanging hunting gear. Outside features include a fire pit, horseshoe pits, a grilling area and a 50-shot trap house sporting clay set up.
Grounds
The grounds have been in the Biggins family over 100 years. According to Biggins, they've intentionally farmed the land with conservation and wildlife propagation in mind since 1982. While on the hunt you will see a wide variety of native grasses, trees and wildlife; all with the intent to give you a true prairie adventure complete with gorgeous sunsets and, of course, the very best South Dakota pheasant hunting experience.
Transportation
Airport: Sioux Falls Regional Airport (Joe Foss Field) (FSD)
Travel to lodge: 150 miles (2.5 hour drive) from the airport
Ground transportation: Rent a vehicle or coordinate transportation with other hunters
Fees
Deposit = $1,000 (due with registration)
Balance = $1,779 (due Sept. 15)
All meals included; alcoholic beverages extra
Payment
Pay online using our online registration form, or call 800.637.8030 to pay by credit card.
Or send checks to:
Order of the Golden Rule
Pheasant Hunt Invitational
3502 Woodview Trace, Suite 300
Indianapolis, IN 46268
Hunting Licenses
Available at Biggins
Fee: $67 (non-residents)
Visit the South Dakota Game, Fish & Parks website for more information.
Hunting Dogs
Hunters are encouraged to bring their hunting dogs at no additional charge.
Questions?
Contact Kevin Opsahl at [email protected] or 605.665.9679 for information about Biggins Hunting Service, hunting conditions or logistics. You can also contact Meetings & Events Coordinator Anna Delph at [email protected].