Our Mission
The mission of OGR's charitable foundation is to fund, perform and/or support activities on behalf of the International Order of the Golden Rule (OGR). Its 11-member board of directors is responsible for identifying projects that advance the standards of funeral service or contribute to the compassionate care of individuals in need. The OGR Foundation, its board of directors and the whole of OGR thanks all of our donors for their generosity. Use the link below for a list of all of this year's donors.
Awards of Excellence Scholarship Program

OGR's Awards of Excellence Scholarship Program provides annual scholarships to mortuary students based on strong academic performance, funeral service experience and an essay describing the student's commitment to serving grieving families with compassion, fairness and dignity.
Applicants must:
Click here to learn more and meet this year's winners!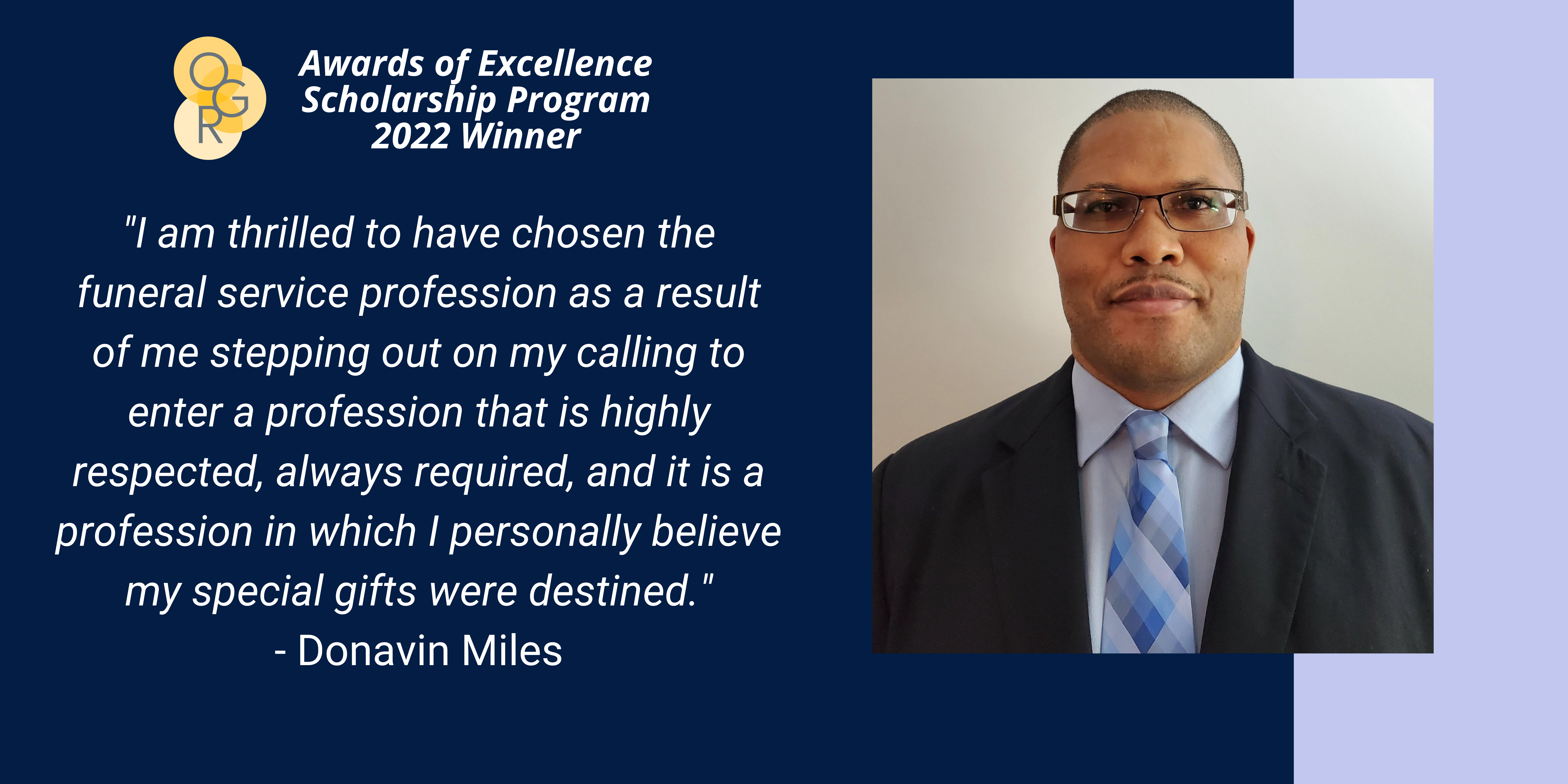 ---
Ways to Support
All OGR charitable foundation activities are funded entirely by members and their allies. The Order of the Golden Rule Foundation is a tax-exempt charitable organization under section 501(c)(3) of the Internal Revenue Code. Your contribution is tax deductible.
Cash Gifts
A gift of any size will help enable us to provide even more scholarships to deserving young men and women interested in the funeral service field. You may make a one-time gift or a recurring gift to make an even greater impact now and in the future. You may make your one-time or recurring gift via credit card or check.
Contributions may be made in honor of or in memory of an individual. Contributors may specify an address to which the Foundation will mail a card acknowledging the donation in a person's name. These donations will also be published in the next issue of OGR's The Independent magazine and recognized on our Virtual Tribute Wall during the calendar year in which the gift was made.
Planned Gifts
Planned gifts enable you to leave a legacy by aligning your estate plans with your desire to support the Order of the Golden Rule Foundation. We can provide you and your legal or financial advisor with information and language that can assist you in making a planned gift to the Foundation.
Plan a Fundraising Event
By hosting a third-party event to raise money for the OGR Foundation, you can provide your friends, family or community with the opportunity to support the Foundation by through a fun activity you plan that sets a fundraising goal. This is a great way to engage individuals who are passionate about our cause and help raise awareness about the OGR Foundation and your business's philanthropic involvement.
Amazon Smile
An effortless way to support the Foundation is to shop through AmazonSmile. Simply select the OGR Foundation as your charity of choice the first time you log in. Every time you make a purchase through AmazonSmile from then on, the Foundation receives a small donation. Lots of small donations from shoppers like you start to add up! Get started here.
Silent Auction Donation
One of our largest fundraising events for the Foundation is our Annual Silent Auction held in conjunction with our Annual Conference. Your donation of an item, desired service or experience will help us reach our fundraising goal for the auction.
Facebook Fundraiser
A quick and easy way to support the Foundation is by hosting a Facebook Fundraiser. Host it in honor of your birthday or any time of the year, then engage your network of friends and family to help you reach your fundraising goal. Your Facebook fundraiser not only raises funds for the OGR Foundation, but also helps raise much needed awareness around our cause. Creating a Facebook Fundraiser is simple! Get started here.
Questions
If you have questions or would like more information on you can support the OGR Foundation, please contact:
Wendy King
Executive Director
Order of the Golden Rule
(800) 637-8030, ext. 140
[email protected]
---
Foundation Board
The Foundation's Board oversees all functions of the Foundation and maintains communication with OGR's board of directors. OGR's President appoints one OGR board member to simultaneously serve on the Foundation board. OGR's President-elect has an automatic seat. Directors must be current members of OGR.
Kim R. Hunter
Chairman
Humphrey Funeral Home
1403 Bayview Ave.
Toronto, Ontario
(416) 487-4523

Evan J. Strong
Vice Chair
Evan J. Strong Funeral Services
5502 2 St. SW
Calgary, Alberta T2H 0G9
(403) 265-1199

Roger Beyers
Secretary / Treasurer
Beyers Funeral Home & Crematory
1123 W. Main St.
Leesburg, FL 34748
(352) 787-4343

Mike Butler
Director
Livingston-Butler-Volland Funeral Home
1225 N. Elm Ave.
Hastings, NE 68901
(402) 462-2147

Charles Castiglia
Director
Lakeside Memorial
Funeral Home
4199 Lake Shore Rd.
Hamburg, NY 14075
(716) 627-2919

Laura A. Kendrick-Godwin
Director
Pollock-Randall
Funeral Home
912 Lapeer Ave.
Port Huron, MI 48060
(810) 982-0179

Thomas L. Hemmerle
Director
Barnett-Strother Funeral Home
2285 N. Main St.
Madisonville, KY 42431
(270) 821-7135

Paul A. Hummel, III
Director
Hummel Funeral
Homes, Inc.
500 E. Exchange St.
Akron, OH 44304
(330) 253-6126

Adam Martin
Director
Martin Funeral, Cremation & Tribute Services
1194 E. Mt Morris Rd.
Mt. Morris, MI 48458
(810) 686-2210

Peter "Skip" Urban
Director
Urban Funeral Home
1111 S Bethlehem Pike
Ambler, PA 19002
(215) 646-8556

Jamie L. Wieting
Director
Wieting Family Funeral Home
411 W. Main St.
Chilton, WI 53014
(920) 849-4941

Wendy King
OGR CEO & Executive Director
Order of the Golden Rule
3502 Woodview Trace, Ste. 300
Indianapolis, IN 46268
(800) 637-8030, ext. 140