Gut and Gumption - Young Professionals Have it All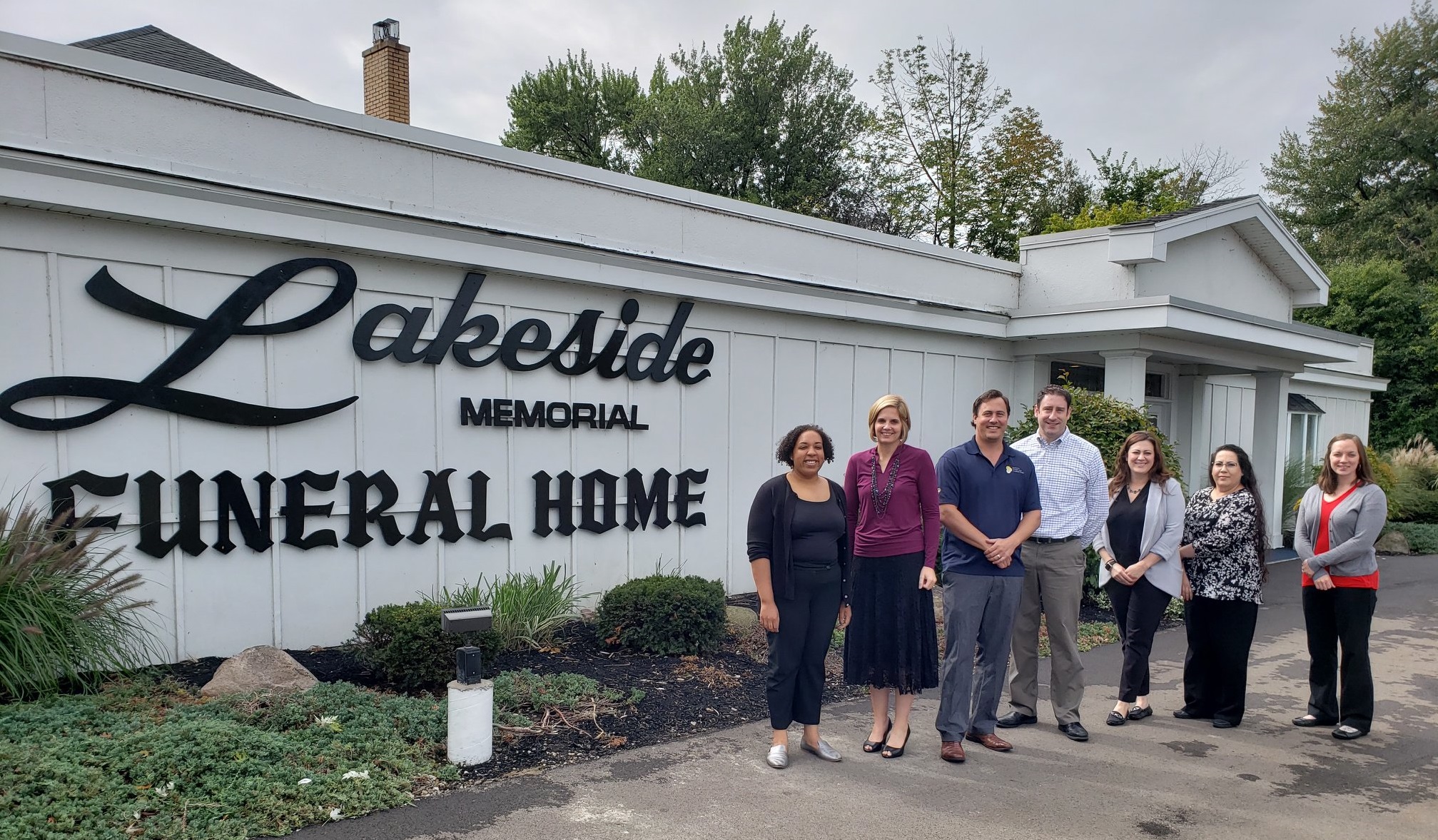 2018 YP study group at Lakeside Memorial Funeral Home in Hamburg, NY
Since 2016, OGR's Young Professionals group has been meeting every spring for its annual event, but last fall they came together for the first time for a study group. OGR study groups consist of five to ten people who gather in a participant's funeral home for "ongoing study of successful business practices." Study group participants usually tour the host funeral home and provide constructive feedback on what they see. They also spend a day and a half exchanging ideas and working through challenges they're facing.
OGR firm Lakeside Memorial Funeral Home hosted the first young professional study group this past September. Seven OGR firms sent staff members to attend, so we sat down with a few to hear more about their experience.
Jalynn Lassic of Martin Funeral, Cremation and Tribute Services in Mt. Morris, MI is a recent mortuary science graduate who wasn't sure what to expect from the meeting. She pictured a conference with lectures and professional presenters but was pleasantly surprised to find funeral directors who were close to her age in attendance. She added, "The collaborative environment allowed me to bring back new ideas from what other OGR funeral homes are doing and to build on the cool things we are doing at Martin's. Because of the small group, we were able to have meaningful discussions about funeral service, and the future of our profession."
Peter Urban of Urban Funeral Home in Ambler, PA agreed. He has taken information Jalynn shared about Martin's themed funerals and wants to adapt it for use at his firm by contacting a theatrical supply house in his community who might be able to provide props for more personalized funerals.
Emily Lowe of George Irvin Green Funeral Home, who was also in attendance, now has plans to add to their Veteran Memorial Program because of the information she gleaned from the discussion.
Young Professionals joined remotely for a discussion on cremation service ideas.
On the second day, young professionals who couldn't participate in the study group in person, joined remotely for an hour-long discussion on cremation. A few ideas that came out of the discussion included:
Require all cremation families do a private ID before cremation. Specify an amount of time (no more than 15 minutes) and number of people (20 or less). Light candles, play soft music and do basic preparation to the body. This gives the family the chance to ID the body but also say goodbye.
Salt urns, which dissolve in water, are sometimes chosen by someone who loved nature or was a hunter. Families will use it as a scattering urn and then leave it in the forest for deer to enjoy.
After a day and a half of sharing, young professionals decided they'd like to repeat the event again next fall. Brandi Reed, formerly of Lakeside Memorial Funeral Home described the experience as both "educational and entertaining. There was a lot of wit and gumption in a room of young directors, and I believe we came up with a lot of creative ways to provide different services." She added, "These events always reinvigorate my love for serving families and providing funeral services. It's a nice reminder that other professionals care just as much as I do."
Share this post: