Professional Service Awards
Golden Light Award | Community Service Award | Exemplary Service Award
By any measure, OGR members are stand-outs in terms of commitment to their profession, their families and their communities.
OGR's award and scholarship programs enable the association to acknowledge member achievements and support the career goals of promising mortuary science students. Winners are acknowledged in The Independent®, on the website and at the Annual Conference.
For questions, contact Executive Director/CEO Wendy King via email or by calling (800) 637-8030.
Registration is now open for the inaugural Golden Circle Celebration, OGR's new fully virtual awards ceremony. We're moving online to give our full membership easier access to this important event.
---
Golden Light Award
In 2002, OGR instituted its most prestigious award, the Golden Light Award, to salute professional excellence exemplified by individual members who have inspired others by their commitment to service.
As an OGR member, you have the opportunity each year to nominate a fellow member who has distinguished him- or herself in the funeral profession through OGR involvement, community service or volunteer activities that demonstrate "service measured not by gold, but by the Golden Rule."
---
Current Golden Light Award Winner
OGR is privileged to bestow its 2020 Golden Light Award to Peter "Skip" Urban of Urban Funeral Home, Ambler, PA


About Skip Urban:


Peter "Skip" Urban of Anton B. Urban Funeral Home in Ambler, PA is being honored with the 2020 Golden Light Award. OGR's highest honor, this award recognizes an individual's ongoing contribution to funeral service, the community, and OGR.

Skip is a second-generation Funeral Director. He and his wife Dolores have been members of OGR for over 30 years. They have attended many of OGR's educational conferences including regionals, internationals, and special purpose symposiums. Skip became very active with OGR by serving on committees, the board of directors, and going up the chairs to be President of the association in 2016. Professionally, he is also a member of the National Funeral Directors Association, the Pennsylvania Funeral Directors Association, and a past president of the Montgomery County Funeral Directors Association.

Skip has always contributed to his community and serves wherever he is able. He serves on the Board of Trustees of the Ambler Savings Bank where he serves as Chairman of the personnel committee and St. Alphonsus Church where he serves as a lector. He is a 4th degree member of the Knights of Columbus Notre Dame Council and a former member of the Board of Directors for the YMCA. In 2013 Skip was given the Citizen of The Year by the Lower Gwynedd Township.

Skip is a dedicated and passionate member of the Wissahickon Fire Company in Ambler. He joined in 1975 and served as Fire Chief and Firefighter since 1980. He is a member of the International Fire Chiefs Association and a life member of the Montgomery County Fire Chiefs Aid Association. He joined the Ambler Rotary Club in 1995 and served on the board of directors before being elected President in 2003. He is a multiple Paul Harris Fellow and actively supports many community Rotarian events. Skip and his wife Dolores have three children and three grandchildren. His eldest son Peter, Jr. continues the legacy of service by currently serving on OGR's Board of Directors.

---
Past Golden Light Award Winners
2019 - Roger Beyers, Roger Beyers of Beyers Funeral Home and Crematory, Leesburg, FL
2018 - Kayla Carter, Carter-Ricks Funeral Home, Elsberry, MO.
2017 - George Darte, George Darte Funeral Chapel St. Catharine's, ON
2016 - John Kreidler, Kreidler Funeral Home, McAllen, TX
2015 - John Dallas Slack, CFSP, Slack Funeral Home, Ellicott City, MD
2014 - Randal Earl, Brintlinger and Earl Funeral Homes, Decatur, Ill
2013 - Jeffrey S. Wages, Wages & Sons-Gwinnett Chapel, Lawrenceville, GA
2012 - Guy Linnemann, Linnemann Funeral Homes, Erlanger, KY
2011 - Robin Williams, R. Lee Williams & Son Funeral Home & Crematory, St. Petersburg, FL
2010 - William Brock, Vander Plaat Funeral Home, Wyckoff, NJ
2009 - Charles Rader, LeRoy Rader Funeral Home, Longview, TX
2008 - Harold Lake, Rindt-Erdman Funeral Home, Arkansas City, KS
2007 - Michael G. Butler, Livingston-Butler-Volland Funeral Home & Cremation Center, Hastings, NE
2006 - Thomas P. Lynch, Lynch & Sons Funeral Directors, Milford, MI
2005 - Billy K. Wages, Wages & Sons Funeral Home, Stone Mountain, GA
2004 - Bonnie Helweg-Campbell, Helweg Funeral Service, Jenkintown, PA
2003 - Glenn P. Taylor, Glenn Funeral Home & Crematory, Owensboro, KY

---
Golden Rule Community Service Award
Launched in 2008, the Golden Rule Community Service Award singles out a member firm for outstanding service to the community performed during the calendar year. Has your firm participated in community service or do you know of a fellow member firm you'd like to nominate? 
2020 Winner:
Brunswick Memorial Home, East Brunswick, NJ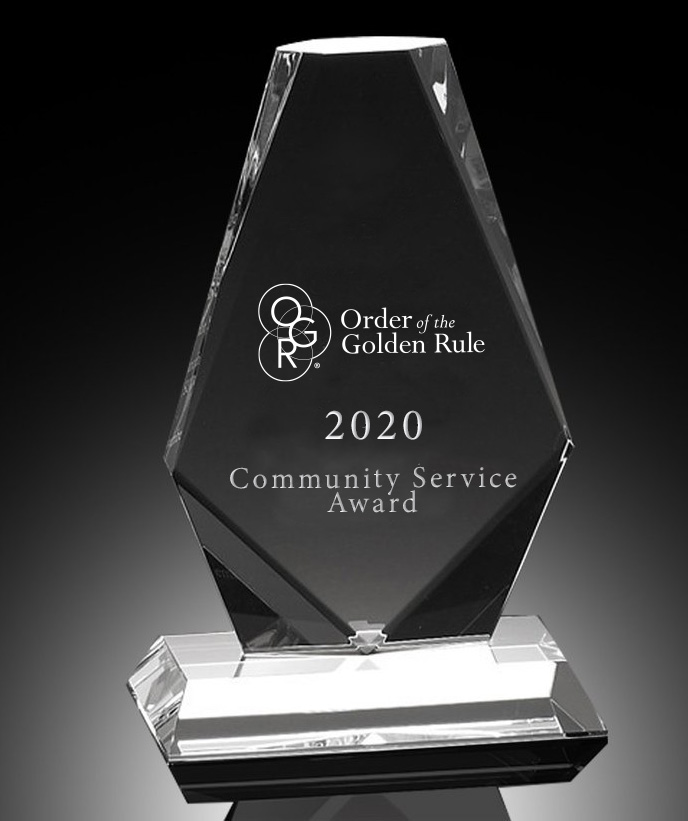 Beginning in 2018 and culminating in 2019 at the NFDA Conference, Brunswick Memorials Care Team entered races, physical competitions, walks, etc. to raise awareness and funds for various causes. The entire Care Team, their family and friends, local law enforcement, clergy, and whomever else they could find were invited to join them on their journey. In addition to raising awareness and funds, Brunswick Memorial Home decided to track the miles they ran, walked, and crawled as an added motivator.  For every mile the funeral home would donate an additional amount towards Unbroken Warrior, and for fun see how far geographically they traveled if they added all the miles together.

Over the year the funeral home ran, swam, crawled, and pulled over 600 miles in total.  More importantly, the Care Team raised awareness and funds for 17 separate charities. Brunswick Memorial Home's year in motion knew no boundaries.  It was a journey marked by challenges, courage, and human connection.   They may have faltered along the way, but they never stood still.  The Care Team from Brunswick Memorial Home made a difference by making every mile count.
Past Golden Rule Community Service Award Winners
2019 Oliverie Funeral Home in Manchester, NJ
2018  Gardinier Funeral Home in Franklin, PA
2017 Toland-Herzig Funeral Homes & Crematory, Dover, Ohio
2016 Martin Funeral, Cremation, & Tribute Services, Mt. Morris, Mich.
2015 Oliverie Funeral Home, Manchester Township, NJ

2014 Brunswick Memorial Home, East Brunswick, NJ
2013 Gardinier Funeral Home, Franklin, Penn.
2012 Joseph Pray, Pray Funeral Home, Charlotte, Mich.
2011 Miles T. Martin Funeral Home, Mt. Morris, Mich.
2010 Brunswick Funeral Home, East Brunswick, NJ
2009 Arnett & Steele Funeral Home, Pineville, Ky.
---
Exemplary Service Awards
The Exemplary Service Awards recognize Golden Rule firms that have displayed outstanding professionalism and exemplary service.
The Exemplary Service Award is given to the top three nominees every year chosen by OGR members and is based on feedback OGR receives through the Family Contact Program. The Family Contact Program is an exclusive OGR member benefit that gathers feedback from families that participants have done services for.
The criteria for receiving an Exemplary Service Award are 1) Your funeral home must be a current participant in OGR's Family Contact Program and 2) Your funeral home must have received a comment or comments that represent family satisfaction with your services and indicate that the funeral home performed in an exemplary manner going above and beyond the expected. 3) Your firm cannot have won the award in the past three years. Visit www.ogr.org/family-contact for more information about the Family Contact Program and how to join. 
Contact the OGR (800) 637-8030 with any questions.
2020 Winners
Arlington Memorial Chapels, Inc., Quezon City, Philippines
Kyger Funeral Home, Elkton, VA
R. Hayden Smith Funeral Home, Hampton, VA
2019 Winners
John L. Ziegenhein & Sons Funeral Home,  St. Louis, MO
Aloia Funeral Home, Garfield, NJ
McDonald Funeral Home, Picayune, MS
2018 Winners
Davenport Family Funeral Homes & Crematory in Crystal Lake, Illinois
Weymouth Funeral Home in Newport News, Virginia
Pray Funeral Home, Inc. in Charlotte, Michigan
2017 Winners
Faulmann and Walsh Golden Rule Funeral Home in Fraser, Michigan
Cassaday-Turkle Christian Funeral and Cremation Service in Alliance, Ohio
Graham Funeral Home in Chesapeake, Virginia
2016 Winners

Caldwell & Cowan Funeral Home, Covington, GA
Strunk Funeral Home, Vero Beach, FL
Ahlgrim Funeral Home, Elmhurst, IL
2015 Winners
Boone Family Funeral Home & Cremation Services, West Jefferson, NC
Plummer Funeral Home, Litchfield, IL
Schuyler Hill Funeral Home, Bronx, NY