One of many projects that helped me earn the OGR Community Service Award
Earning the OGR Community Service Award is an honor our funeral has earned twice, once in 2015 and again in 2019.
Some of our best community events have started with a need very small. With each event we host, we have learned what we can and cannot do or expect. Our flu clinic started with a sign saying, "Free Flu Shot Today! Walk-ins Welcome!" I saw it on a road sign by every pharmacy.
Pharmacies in my area are more popular than bars. So, I wondered how? My experience has always been to make a doctor appointment or on a sick visit they encourage you to get the shot. This was definitely different. So, I thought to myself, "Self, let's try to get one. Two options: make an appointment or walk in, usually no wait either way." I did the walk-in.
Then the inquisition of my pharmacist began. You see, the pharmacies were not only in competition with each other but also the hundreds of doctor's offices they were surrounded by. They also all wanted to tap into the Medicare pocketbook.
Hence, representatives were sent out to solicit other venues where the pharmacy could host vaccine clinics, and I asked to be included. A few verbal guarantees, a date and time agreed upon, the place being my funeral home, and we were all set. Took a few minutes to talk to someone and a couple of weeks to agree on the date and time: the third Saturday in September.
The beginning of flu season is officially August, but no one is ready to give up summer or think about flu season yet. The first week of September is Labor Day and people are still trying to keep summer BBQs going; back-to-school, work and new schedules keep the second week too hectic, so the third week it was.
We advertised like the pharmacies did but added our own imagination to it. "Free flu shot at Oliverie Funeral Home. We're not ready for you yet. Stay healthy!" We wrote different types of ads based around this same idea, placed it on Facebook, local newspapers, church bulletins, and flyers in and around area shopping plazas. Same as pharmacies: walk-ins welcome, appointments honored and no wait time.
The pharmacist and the assistant arrive 20 minutes before the agreed upon start time, and bring everything they need: their own medical waste garbage, regular garbage, pens, clipboards, insurance paperwork and a cell phone to call for the approval for some claims.
Our setup the day-of:
Tent, table, 40 chairs and signs on funeral home doors directing patrons to the rear parking lot, for the first 3 years. We now send them to a 20'x30' patio area since we outgrew the parking lot.

Another table with fruit, fall desserts and cookies, alongside our custom Oliverie Funeral Home water bottles, plates, napkins, etc.

Banner behind the pharmacist and assistant (making for a great photo op) thanking everyone for voting us Asbury Park Press' Best of the Best funeral home in Ocean County 8 years in a row and counting.

I get my flu shot before everyone, followed by my staff so we can assist others. Due to HIPAA (the Health Insurance Portability and Accountability Act) regulations, we can only help if asked to. We mostly get the treats and water and converse with patients while they wait, and clean up garbage as we go along. While they wait, they call their friends and neighbors and say, "You better get down here - there's free food and flu shots."

If their insurance has a copay (very rare), it's usually $15 - $35. Because we advertise it as being entirely free, we cover that cost. Most insurance companies and Medicare pay for the flu shot entirely, so I've only had to pay for two or three people over the many years we've done this. It is well worth the free publicity. Weather has always somehow cooperated, but we have the whole inside of the funeral home as a backup. We plan funerals around it as a precaution.
Remember to have enough room so their medical info and conversations are private. The same group comes every year and it grows. They sit, eat and talk long after their flu shot.
People message me through Facebook and ask what the date is so they can add it their calendar and not worry about it. Some even tell their doctor during their regular office visit that they are getting it with us. I think the snacks and camaraderie are definitely the deciding factor.
The same pharmacist & assistant call in August and remind me we are all set for the 3rd Saturday in September every year. I welcome the reminder, because like everyone else we are not thinking flu shots in August.
If you have any questions about setting up a similar program at your own funeral home, call me at (732) 657-4900 or email me at [email protected].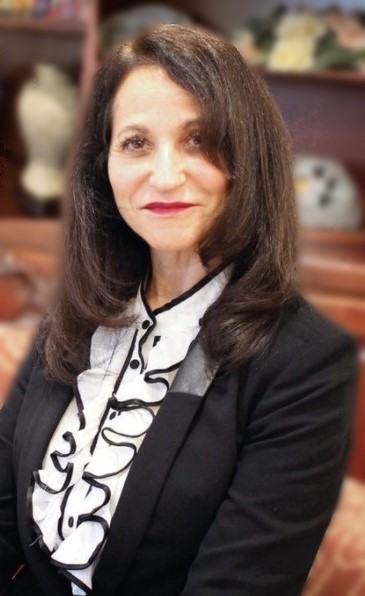 Geraldine "Geri" Oliverie pursued her childhood dream of becoming a funeral director, graduating with honors from the American Academy McAllister Institute of Funeral Services as class vice president in 1984. She was licensed by both the State of New Jersey and the National Licensing Board, and is also a Certified Celebrant.
She then pursued a bigger dream of owning her own funeral home, opening her first, Oliverie Funeral Home in Lakehurst, New Jersey, in 1987. She opened her second in Manchester Township in 2000. Geri's newest venture is the additional Life Celebration Funeral Home located in Jackson, New Jersey, to be completed in spring of 2021. This will have a banquet facility, store and café for a completely new funeral experience. The total immersion into one's life as you once knew them.
Geri is a member of several associations including the Order of the Golden Rule, and is a charter member of the Funeral Ethics Association. She was named American Funeral Director magazine's 2020 Funeral Director of the Year, the American Cancer Society's 2015 Humanitarian of the Year and annually volunteers with Habitat for Humanity.
Share this post: